What is the assembly problem of connector?
Generally speaking, most of PCBA products will use plenty of connectors. Unfortunately, it occurs a problem that the connector will deform after the reflow, which lead to a defect that the FFC (Flexible Flat Cable) will become bad contact once it's inserted.
Why does it occur?
After exploring and discovering that the Connector manufacturer has plugged a cap (plastic cover) in inner metal shrapnel end of the connector. This cover is used for the Nozzle of the Pick and Place Machine(SMT). With the influence of the expand with heat and contract with cold, the Cap will squeeze the metal shrapnel and deform permanently during the reflow. As a result, the metal shrapnel is located on the same plane, which causing defective of bad contact and intermittent. This intermittent phenomenon is a major killer in quality control.
How can we solve?
Later, the solution is to change the Connector cap to Mylar patch. However, due to the Connector manufacturer adopts the manual way, which lead to a new problem that the deviation of Mylar affects the following SMT process. Finally, they only change the inserting part of the connector cap from inside to the outside. So far, more than 1,000 units have been tested and no similar defects have been found longer.
Nowadays, most of the connectors on the market tend to use metal lids instead of plastic lids. As Plastic lids must be produced with plastic injection molds, while metal lids are stamped molds. In fact, if the mass production is large enough, the plastic lid should be more economical.
▼ The connector plugs the plastic cap onto the inside of the connector's spring shrapnel.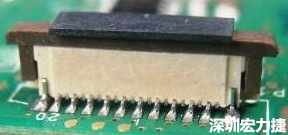 ▼The plastic cover is plugged into the inside of the connector. After heating, the metal shrapnel is easily part deformed.

▼With the Mylar, it's too small to absorb but too large and affect SMT pickup.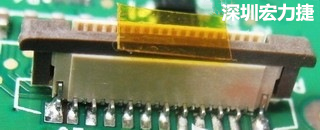 ▼ Finally it's still use the connector cap by only changing its inserting part of from inside to the outside.